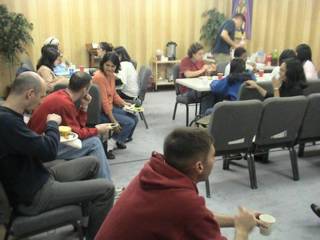 It was a blessing finishing up the classes for this year. We were totally blessed with all the people who took classes this fall. If you turn to our yahoo photos you can see some of the pics and the people who attended the classes.
http://photos.yahoo.com/calvarychapele3missions
. Joanna had a great time teaching "women in ministy", and I enjoyed teaching "Life of Christ". Please continue to pray for us as we prepare to teach the winter session. We are offering 5 classes next quarter. Acts, Genesis, Worship, Children's ministry, and Conversational Japanese. We are looking forward to the new teachers that will be assisting us this next year.

Pastor Tommy