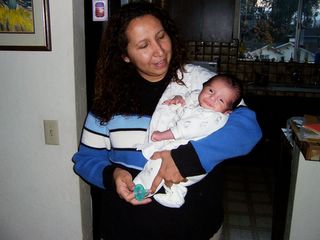 We are so blessed to finally have a picture of Dylan and Anabel's baby,
Ethan Caleb Grajeda
Smith
. Whew! A long name for a cute baby. George Sedota and his wife Patty, had the opportunity to go up to Watsonville and visit with this couple for a few day, so they took these pictures. You can turn to their site and check out more picts.
http://pg.photos.yahoo.com/ph/bigdota/my_photos
If you do not know, Dylan and Anabel Smith have been in Watsonville California for over a year now and Dylan pastor's a new Calvary Chapel work in the area called Calvary Chapel Watsonville. Dylan was an assistant pastor at CCLivingwater for many years. But the Lord called him out to start a new work up north. Now, God has blessed this couple with a new addition, baby Ethan. Please keep them in your prayers as they continue to be faithful in the work that God has called them to do.

Pastor Tommy